Game Description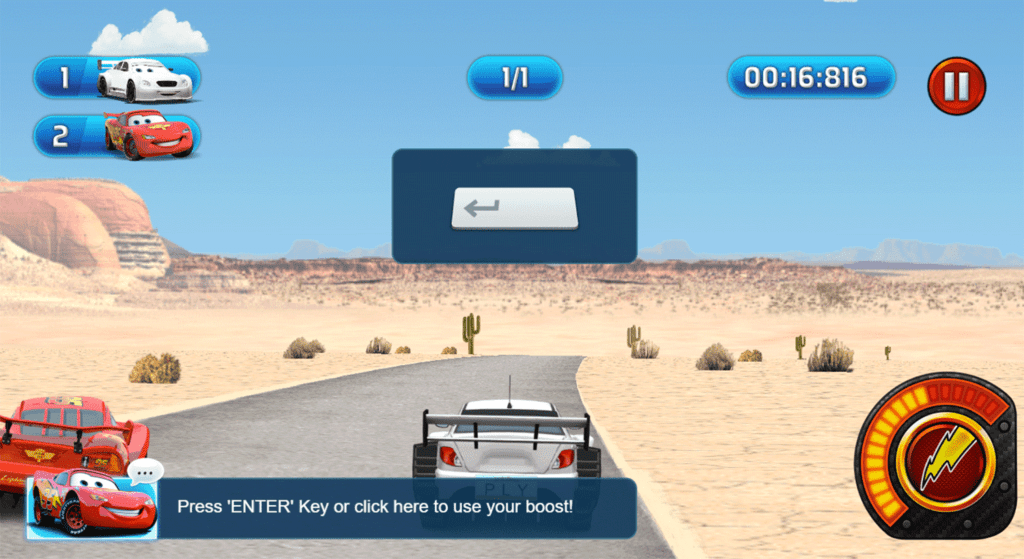 Cars Lightning Speed is a high-speed racing game that brings the thrilling world of Disney-Pixar's Cars franchise to life. Developed by the talented team at Lightning Games, this action-packed title allows players to race alongside their favorite characters from the beloved animated movies. Get ready to burn rubber, perform stunts, and experience the ultimate racing adventure!
Game Controls
Before diving into the adrenaline-pumping races of Cars Lightning Speed, it's essential to familiarize yourself with the controls:
Acceleration: Press the up arrow key (or W key) to speed up your vehicle.
Braking/Reverse: Use the down arrow key (or S key) to slow down or reverse your car.
Steering: Left and right arrow keys (or A and D keys) will help you navigate tight turns and curves.
Nitro Boost: Activate your car's nitro boost by pressing the spacebar.
Pause: Hit the P key to pause the game and access the menu.
How to Play Cars Lightning Speed?
1. Choose Your Character
Begin your racing adventure by selecting your favorite character from the Cars franchise. Each character has unique abilities and attributes, so choose wisely to match your racing style.
2. Select a Race
Pick a race track from the available options, each offering different challenges and scenery. Races can take place in iconic locations from the Cars movies, adding to the nostalgia.
3. Race to Victory
Once on the track, accelerate and steer your car to dodge obstacles and outpace your opponents. Be strategic with your nitro boosts to gain an edge and cross the finish line first.
4. Collect Power-Ups
Throughout the race, collect power-ups like speed boosts and shields to enhance your chances of winning. These power-ups can be the key to victory in tight races.
5. Perform Stunts
Earn style points by performing daring stunts during jumps and ramps. Not only do they look cool, but they also provide bonus nitro boost, helping you maintain your lead.
Tips and Tricks
Master the Drift: Learn how to drift around corners to maintain speed and take the lead.
Use Nitro Wisely: Save your nitro boosts for crucial moments, like overtaking opponents or catching up from behind.
Collect Coins: Gather as many coins as possible during races to unlock new characters and tracks.
Upgrade Your Vehicle: Use the coins earned to upgrade your car's performance, making it faster and more agile.
Game Developer
Cars Lightning Speed was developed by Lightning Games, a reputable game development company known for their expertise in creating engaging and family-friendly gaming experiences. Their dedication to delivering high-quality games is evident in the thrilling world of Cars Lightning Speed.
Game Platforms
You can enjoy the high-speed action of Cars Lightning Speed on the following platforms:
macOS
PlayStation
Xbox
Nintendo Switch
Mobile devices (iOS and Android)
How to Play Unblocked
If you're eager to play Cars Lightning Speed unblocked, follow these steps:
Ensure your network settings allow access to gaming content.
Check if your school or workplace has restricted access to gaming websites or applications.
Consider using a reputable VPN service to bypass network restrictions and access the game.
Visit the official Lightning Games website or trusted gaming platforms to play the unblocked version of the game.
Conclusion
Cars Lightning Speed offers a thrilling racing experience that appeals to fans of all ages. With its engaging gameplay, beloved characters, and a variety of tracks and power-ups, it's a must-play for anyone who loves high-speed action. So, buckle up, choose your favorite character, and get ready to race to victory in the world of Cars!
Cars Lightning Speed delivers an exhilarating racing experience that captures the essence of the beloved Cars franchise. With a diverse roster of characters, heart-pounding races, and strategic gameplay, it offers entertainment for gamers of all ages. Lightning Games has done a fantastic job in bringing the magic of Disney-Pixar's world to the gaming universe.
Whether you're a fan of Lightning McQueen, Mater, or any other iconic character from the movies, this game allows you to step into their wheels and race to victory. Remember to employ smart tactics, collect power-ups, and master the art of drifting to dominate the tracks.