Game Description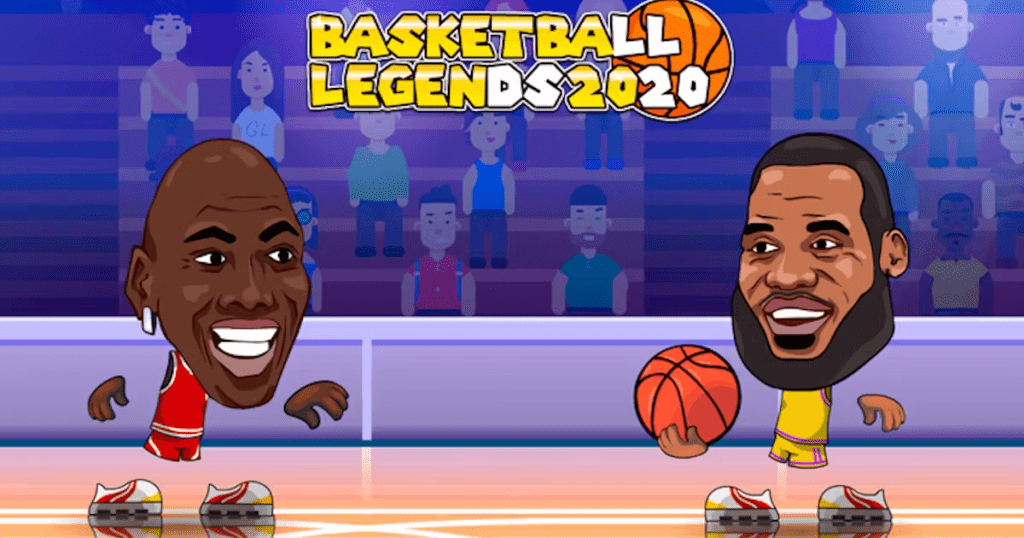 Basketball Legends is an electrifying and action-packed basketball game that allows you to step onto the court with some of the greatest basketball legends of all time. Developed by MadPuffers, this game offers fast-paced, two-player basketball matchups where you can showcase your skills and aim for victory. Whether you're a fan of basketball or simply enjoy intense sports gaming, Basketball Legends is sure to keep you engaged and entertained.
Game Controls
To dominate the court in Basketball Legends, you'll need to get familiar with the game's controls:
Player 1 (Single Player Mode) or Player 1 Controls (Multiplayer Mode):

W, A, S, D: Move your player.
B: Shoot or steal the ball.
V: Super shot.

Player 2 Controls (Multiplayer Mode):

Arrow keys: Move your player.
L: Shoot or steal the ball.
K: Super shot.
How to Play Basketball Legends?
Objective
The objective of Basketball Legends is to outscore your opponent in fast-paced basketball matches. Whether you're playing against the AI or challenging a friend in multiplayer mode, your goal is to make baskets and secure victory.
Steps to Play
Select Your Player: Start by choosing your favorite basketball legend, each with unique skills and abilities.
Choose Your Game Mode: Select whether you want to play in single-player mode against the AI or challenge a friend in multiplayer mode.
Dominate the Court: Use your chosen player's skills to dribble, shoot, and score points. Guard your opponent to prevent them from scoring.
Unleash Super Shots: Collect energy during the match to execute super shots, which can give you an advantage on the court.
Outscore Your Opponent: Aim to outscore your opponent before the timer runs out. The player with the most points when the clock hits zero wins the match.
Tips and Tricks
Master Character Skills: Each player has unique skills and abilities. Learn how to use them effectively to gain an edge on the court.
Defense Matters: Don't focus solely on offense; strong defense is crucial to winning matches.
Utilize Super Shots: Time your super shots carefully for maximum impact. They can turn the tide of a game.
Game Developer
Basketball Legends was developed by MadPuffers, a game development studio known for creating addictive and fun sports games. Their passion for delivering engaging and competitive gaming experiences is evident in Basketball Legends.
Game Platforms
You can hit the virtual basketball court in Basketball Legends on the following platforms:
Web browsers (online game)
iOS (available for download on the App Store)
Android (available for download on Google Play Store)
With its availability on both iOS and Android devices, Basketball Legends ensures that basketball enthusiasts can enjoy intense court action whether they're on their computer, iPhone, or Android device, providing flexibility and accessibility for gaming on the go.
How to Play Unblocked
Playing Basketball Legends unblocked is simple, as it's a web-based game:
Web Browsers: Access the game through web browsers on your computer. Since it's an online game, it's usually accessible without restrictions.
School or Work Restrictions: If you're trying to play at school or work, check if your institution's policies allow for gaming during break times. Sports games like Basketball Legends are often not heavily restricted due to their entertainment and competitiveness.
Conclusion
Basketball Legends brings the excitement of the basketball court to your fingertips, allowing you to play as some of the sport's greatest legends. With its intuitive controls, fast-paced gameplay, and the thrill of multiplayer matchups, it's a game that captures the essence of basketball.
Whether you're going head-to-head against the AI or challenging a friend in multiplayer mode, Basketball Legends offers intense basketball action and endless fun. So, pick your legend, step onto the court, and aim for basketball glory in this exhilarating sports game.