Game Description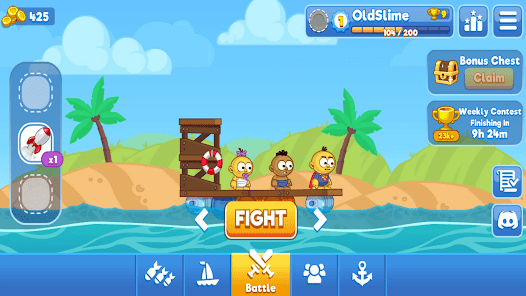 Raft Wars 2 is an entertaining and lighthearted online game that takes you on a treasure-hunting adventure with Simon and his brother. Developed by Martijn Kunst, this game combines elements of strategy and physics-based gameplay. Join the two siblings as they set sail on their trusty raft, battling foes and digging for hidden treasures on a remote island.
Game Controls
To navigate the treacherous waters and engage in epic battles, you'll need to understand the game's controls:
Mouse: Use your mouse to aim and adjust the angle of your shots.
Left Mouse Button: Click to fire your weapon or perform actions like digging for treasure.
1, 2, 3 Keys: Switch between different types of ammunition or weapons.
Objective
In Raft Wars 2, your main objective is to defeat enemy pirates, guards, and other adversaries by using your raft's arsenal of tennis balls and other projectiles. As you progress through the game, you'll also uncover hidden treasures buried on the island.
Steps to Play
Aim and Shoot: Move your mouse to aim your weapon and click the left mouse button to fire. Adjust the angle and power of your shots to hit your targets accurately.
Defeat Enemies: Battle against various enemies who will try to sink your raft. Knock them off their platforms or eliminate them to clear each level.
Find Treasures: Use your digging tool to unearth buried treasures on the island. These treasures can provide you with upgrades and enhancements.
Upgrade Your Raft: As you progress, earn money from defeating enemies and discovering treasures. Use this money to upgrade your raft and weapons for more firepower.
Complete Levels: Your ultimate goal is to complete all the levels, defeating powerful bosses and reclaiming the treasure stolen from you.
Tips and Tricks
Aim Carefully: Take your time to aim your shots accurately, especially when dealing with enemies hidden behind obstacles.
Use Different Ammo: Experiment with different types of ammunition to find the most effective one for each situation.
Upgrade Wisely: Prioritize upgrading your raft's defenses and firepower to tackle tougher challenges.
Watch Your Health: Keep an eye on your health bar. Use health packs strategically to stay in the game.
Game Developer
Raft Wars 2 was developed by Martijn Kunst, a game developer known for creating engaging and entertaining web games. His knack for combining simple yet addictive gameplay with charming graphics shines through in this title.
Game Platforms
You can enjoy the treasure-hunting adventures of Raft Wars 2 on the following platforms:
Web browsers (online game)
iOS (available for download on the App Store)
Android (available for download on Google Play Store)
With the availability on both iOS and Android devices, Raft Wars 2 ensures you can embark on your quest for treasure wherever you go, whether it's on your computer, iPhone, or Android device.
How to Play Unblocked
Playing Raft Wars 2 unblocked is easy:
Web Browsers: Access the game through web browsers on your computer or mobile device. Since it's an online game, it should be readily available without access restrictions.
School or Work Restrictions: If you're attempting to play at school or work, make sure your institution's policies allow for gaming during your break times. Usually, games like Raft Wars 2 are not heavily restricted due to their recreational nature.
Conclusion
Raft Wars 2 delivers an enjoyable blend of strategic thinking and physics-based fun as you journey with Simon and his brother on their quest for treasure. With engaging gameplay, humorous characters, and challenging levels, this game provides hours of entertainment for players of all ages. So, hop aboard your trusty raft, ready your tennis balls, and embark on a memorable adventure in Raft Wars 2!