Game Description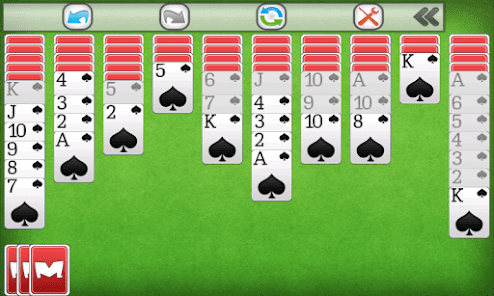 Spider Solitaire is a timeless card game that has been a favorite among solitaire enthusiasts for decades. In this digital adaptation, players can enjoy the addictive and strategic gameplay that has made Spider Solitaire a classic. Whether you're a seasoned solitaire pro or a newcomer, this game offers endless hours of card-shuffling fun.
Game Controls
To fully enjoy Spider Solitaire, you need to understand the controls:
Mouse: Use your mouse to click and drag cards to move them around the game board.
Touchscreen: On touchscreen devices, you can simply tap and drag cards to play.
How to Play Spider Solitaire?
Objective
The goal of Spider Solitaire is to arrange all cards in descending order within each suit while following these rules:
A completed sequence of cards (King to Ace) in a single suit is automatically removed from the board.
Empty columns can only be filled with Kings or sequences starting with a King.
You can move a group of cards if they are in descending order and have the same suit.
Steps to Play
Initial Setup: The game begins with 54 cards, which are dealt into ten columns, with the top card of each column face up.
Building Sequences: Start by building sequences in descending order from King to Ace. You can move any sequence of cards that follows this order onto another column as long as it has the same suit.
Completing Sequences: When you successfully arrange a full sequence of cards from King to Ace in one suit, it will be removed from the game board.
Empty Columns: As columns become empty, you can fill them with any King or a valid sequence starting with a King.
Stock Pile: If you get stuck, you can deal a new row of cards from the stock pile (located at the bottom-right) onto the tableau, potentially opening up new moves.
Winning: The game is won when you've successfully cleared all eight suits, resulting in a complete and empty tableau.
Tips and Tricks
Plan Ahead: Carefully consider the consequences of each move and try to create sequences that will help you clear the tableau.
Empty Columns: Keep columns empty when possible, as they act as valuable placeholders for Kings and other sequences.
Uncovering Cards: Prioritize uncovering face-down cards by freeing up cards on top of them.
Stock Pile Use: Use the stock pile strategically. Don't rush to deal new cards; it can sometimes be better to wait for the right moment.
Game Developer
Spider Solitaire is a classic card game that has been implemented in various forms by multiple developers over the years. It's become a staple of solitaire collections on various platforms, thanks to its enduring popularity.
Game Platforms
You can enjoy Spider Solitaire on a wide range of platforms, including:
Windows PC
macOS
iOS and Android mobile devices
Web browsers
How to Play Unblocked
Playing Spider Solitaire unblocked is usually straightforward, as it's a card game that doesn't involve online multiplayer or external servers. Here's how to play unblocked:
Offline Play: You can download and install standalone versions of Spider Solitaire on your computer or mobile device. These versions are typically not subject to web filtering or blocking.
Browser Extensions: Some web browsers offer Spider Solitaire as an extension or add-on. You can install these extensions to play directly in your browser without accessing external websites.
Mobile Apps: Download a Spider Solitaire app from your device's app store. These apps often function offline and don't require access to external websites.
Proxy or VPN: If you encounter web filtering at school or work, you can use a proxy or a VPN service to bypass restrictions and access online versions of Spider Solitaire.
Conclusion
Spider Solitaire is a classic card game that has stood the test of time for its engaging and challenging gameplay. Whether you're a casual player looking to unwind or a seasoned solitaire enthusiast seeking a strategic challenge, this game has something to offer. With accessible controls and a variety of platforms to play on, you can enjoy the satisfaction of arranging cards in descending order wherever you go. So, deal the cards and put your solitaire skills to the test in Spider Solitaire!