Game Description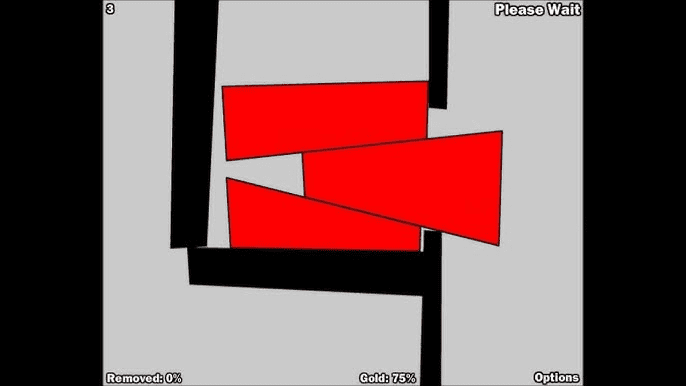 3 Slices is a brain-teasing puzzle game that challenges your ability to divide objects into equal parts. Developed by Gaz Thomas, this game presents players with various shapes, and your goal is to make three perfect slices to create equal-sized pieces. As you progress through the levels, the puzzles become increasingly intricate, putting your spatial awareness and problem-solving skills to the test.
Game Controls
To master the art of slicing in 3 Slices, you'll need to get comfortable with the game's controls:
Mouse: Use your mouse to draw lines that slice through the objects on the screen. You have a limited number of slices per level, so use them wisely.
How to Play 3 Slices?
Objective
The objective of 3 Slices is to divide the given object into three equal-sized pieces using a limited number of slices. Precision and efficiency are key to success in this puzzling challenge.
Steps to Play
Start the Level: Each level presents you with an object or shape that you need to divide into three equal parts. Carefully examine the object's structure.
Plan Your Slices: Strategically draw lines through the object to create three pieces of equal size. Keep in mind that the number of slices is limited.
Execute Your Slices: Click and drag your mouse to draw the lines where you want to make your cuts. Release the mouse button to execute the slices.
Achieve Perfection: Your goal is to make the three pieces as close to equal in size as possible. The more precise your cuts, the better your score.
Complete the Level: Successfully dividing the object into three equal pieces advances you to the next level with new challenges.
Tips and Tricks
Plan Ahead: Take your time to analyze the object and plan your cuts carefully. A well-thought-out strategy can save slices and improve your score.
Minimize Waste: Aim to minimize the leftover fragments after each slice. Efficiency is crucial in achieving equal-sized pieces.
Use Angles: Experiment with slicing at different angles to achieve more balanced divisions.
Game Developer
3 Slices was created by Gaz Thomas, a game developer known for designing engaging and thought-provoking puzzle games. His talent for crafting puzzles that challenge the mind is evident in the clever design of 3 Slices.
Game Platforms
You can put your slicing skills to the test in 3 Slices on the following platforms:
Web browsers (online game)
iOS (available for download on the App Store)
Android (available for download on Google Play Store)
With its availability on both iOS and Android devices, 3 Slices ensures that players can enjoy the challenging puzzles and precision slicing on a variety of platforms, offering accessibility and convenience for puzzle enthusiasts on the go.
How to Play Unblocked
Playing 3 Slices unblocked is straightforward since it's a web-based game:
Web Browsers: Access the game through web browsers on your computer. It's an online game, so it should be readily available without access restrictions.
School or Work Restrictions: If you're attempting to play at school or work, ensure that your institution's policies allow for gaming during break times. Puzzle games like 3 Slices are often not heavily restricted due to their educational and problem-solving nature.
Conclusion
3 Slices is a captivating puzzle game that puts your spatial awareness and strategic thinking to the test. With its simple yet challenging concept, it offers a satisfying and brain-teasing experience.
As you draw lines to divide objects into three equal parts, you'll find yourself engrossed in the world of precise slicing and strategic planning. So, sharpen your slicing skills, unravel the puzzles, and strive for perfection in 3 Slices!