Game Description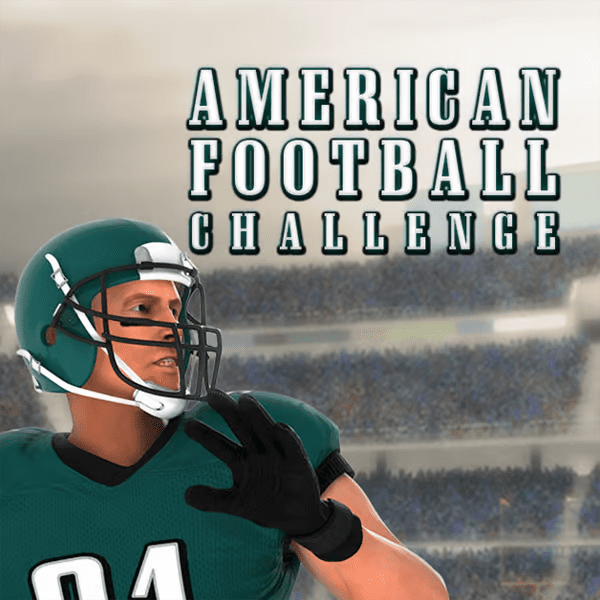 American Football Challenge is an engaging and addictive sports game that puts you in the shoes of a football quarterback. Developed by Famobi, this game challenges your passing skills as you attempt to complete passes and score touchdowns. Whether you're a football fanatic or just looking for an exciting and casual gaming experience, American Football Challenge offers a fun way to test your throwing accuracy.
Game Controls
Mastering the controls in American Football Challenge is crucial for achieving high scores:
Mouse: Use your mouse to control the direction and power of your throw.
Left Mouse Button: Click and hold to set the throw's power and release to throw the ball.
How to Play American Football Challenge?
Objective
The objective of American Football Challenge is simple: score as many touchdowns as you can by accurately passing the football through moving targets. Each successful pass earns you points, and the challenge is to keep your passing streak going.
Steps to Play
Launch the Game: Start the game and get ready to make some impressive throws.
Choose a Level: Pick your preferred level of difficulty. Higher levels feature smaller and faster-moving targets, providing a greater challenge.
Begin Throwing: Click and hold the left mouse button to set the power of your throw. Aim for the moving targets and release the button to pass the ball. Your goal is to pass the ball through the targets to score points.
Keep Scoring: As you successfully pass the ball through targets, your score accumulates. Try to maintain your accuracy and keep the streak going.
Challenge Yourself: Aim for higher scores by consistently hitting targets. The game becomes progressively more challenging as you advance.
Tips and Tricks
Aim Ahead: To account for the ball's trajectory and the movement of targets, aim slightly ahead of the targets for accurate passes.
Stay Calm: Keep a steady hand when setting the power of your throw. Overpowering or underpowering throws can lead to misses.
Practice Makes Perfect: Like any skill-based game, practice is key. Repeatedly playing American Football Challenge will improve your accuracy and scoring abilities.
Game Developer
American Football Challenge was developed by Famobi, a renowned game development company specializing in creating captivating and accessible web-based games. Their commitment to delivering enjoyable and challenging gaming experiences is evident in American Football Challenge.
Game Platforms
American Football Challenge is primarily available as a web-based game, and it's typically played on web browsers on your computer. It is not available as a standalone mobile app on iOS or Android platforms. The game's simple and accessible gameplay makes it suitable for playing directly in your web browser.
How to Play Unblocked
Playing American Football Challenge unblocked is easy since it's available as an online game:
Web Browsers: Access the game through web browsers on your computer. It's often accessible without restrictions.
School or Work Restrictions: If you're trying to play at school or work, ensure that your institution's policies allow for gaming during break times. Casual and skill-based games like American Football Challenge are typically not heavily restricted due to their entertainment value.
Conclusion
American Football Challenge offers an enjoyable and challenging experience for those looking to test their throwing accuracy and have some fun on the virtual football field. With moving targets and increasing difficulty levels, it keeps you engaged while offering an opportunity to improve your skills.
American Football Challenge is a fun and skill-testing game that allows you to step into the shoes of a quarterback and test your accuracy on the football field. With moving targets and challenging levels, it's a game that offers both excitement and a chance to improve your passing skills.
So, take your position, aim for those targets, and keep scoring touchdowns in American Football Challenge. It's where precision meets fun, and where each pass can lead to a new high score.