Game Description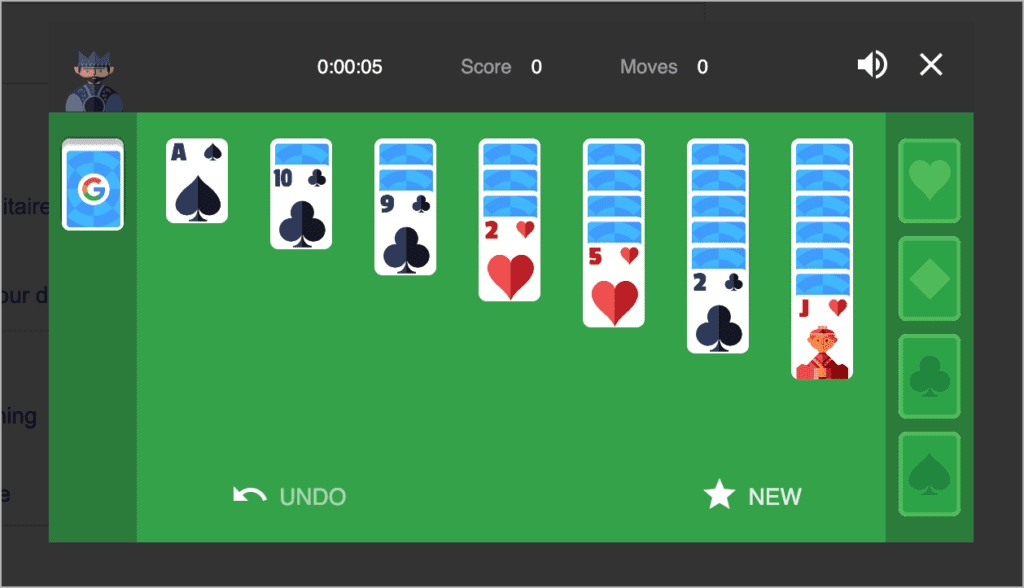 Google Solitaire is a digital adaptation of the classic card game Solitaire, also known as Klondike Solitaire. This timeless game has been a staple of Windows operating systems for years and continues to captivate players with its simple yet addictive gameplay. Whether you're a Solitaire veteran or new to the game, Google Solitaire offers a relaxing and entertaining experience.
Game Controls
Mastering the controls is essential to enjoy a seamless game of Google Solitaire:
Mouse: Click and drag cards to move them across the tableau and the foundation piles.
Touchscreen: On touchscreen devices, you can tap and drag cards to make your moves.
How to Play Google Solitaire?
Objective
The objective of Google Solitaire is to build four foundation piles, one for each suit (hearts, diamonds, clubs, and spades), in ascending order from Ace to King.
Steps to Play
Initial Setup: The game begins with a shuffled deck of 52 cards, which are dealt into seven columns on the tableau. The first column has one face-up card, the second column has two, and so on.
Building Columns: You can move cards between columns on the tableau. Place cards of alternating colors (e.g., red on black or black on red) in descending order to uncover new cards and reveal Aces.
Foundation Piles: As you uncover Aces, move them to the foundation piles, where you will build ascending sequences for each suit (Ace, 2, 3, 4, 5, 6, 7, 8, 9, 10, Jack, Queen, King).
Revealing Cards: Once you've moved cards away from a column, you can flip over the face-down card beneath, making it available for play.
Stock Pile: If you get stuck or need additional cards to play, you can draw cards from the stock pile in the top-left corner. Cards drawn from the stock pile can be placed on the tableau or foundation piles if they fit the game's rules.
Winning: The game is won when you successfully build all four foundation piles in ascending order from Ace to King for each suit.
Tips and Tricks
Focus on Aces: Uncover Aces early and prioritize moving them to the foundation piles.
Empty Columns: Try to create empty columns as they can be used strategically to temporarily store cards and facilitate moves.
Plan Ahead: Think several moves ahead and consider the consequences of each move before making it.
Undo and Redo: Use the undo and redo buttons to review and correct your moves if necessary.
Game Developer
Google Solitaire is a part of Google's collection of built-in games and features. While it doesn't have a specific developer, it is maintained and updated by Google to provide users with a classic and enjoyable Solitaire experience.
Game Platforms
You can enjoy Google Solitaire on the following platforms:
Web browsers (via the Google search engine).
Some mobile devices and tablets running Android.
How to Play Unblocked
Playing Google Solitaire unblocked is simple, as it's often accessible on a wide range of devices. Here's how to play unblocked:
Online Search: Simply type "Google Solitaire" into your preferred web browser's search bar. The game is usually available directly through Google's search engine, so you won't encounter any unblocking issues.
Mobile Devices: If you're using an Android device, you can access Google Solitaire via the Google app or by searching for it on your mobile browser.
Browser Extensions: Some web browsers offer Solitaire as an extension or add-on. Installing such extensions can allow you to play directly in your browser without accessing external websites.
Offline Versions: Consider downloading a standalone Solitaire game for your computer or mobile device. These versions are typically not subject to web filtering or blocking.
Conclusion
Google Solitaire is a classic card game that has found a new home in the digital age, offering players a familiar and enjoyable way to relax and sharpen their strategic thinking. Whether you're taking a quick break at work or unwinding at home, the game's accessibility and timeless appeal make it a delightful choice for players of all ages. So, dive into a game of Solitaire, challenge yourself, and experience the satisfaction of organizing cards in Google Solitaire!