Game Description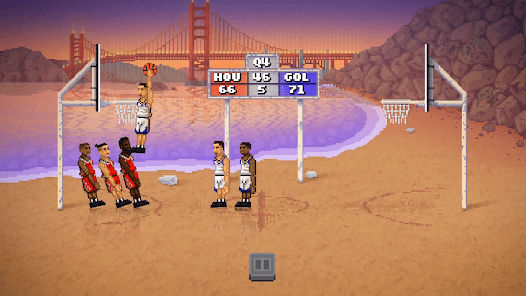 Bouncy Basketball is an addictive and fast-paced basketball game that combines arcade-style gameplay with quirky characters. Developed by Dreamon Studios, this game offers a simple yet challenging experience that's easy to pick up but hard to put down. Your goal is to score baskets while performing incredible dunks and showcasing your basketball skills.
Game Controls
Mastering the controls in Bouncy Basketball is essential for success:
Touchscreen Devices (iOS/Android):

Swipe Left/Right: Move your player horizontally.
Swipe Up: Jump.
Swipe Up (Hold and Release): Perform a dunk or a shot.

Keyboard (PC):

Arrow Keys: Move your player.
Up Arrow: Jump.
Up Arrow (Hold and Release): Perform a dunk or a shot.
How to Play Bouncy Basketball?
Objective
The objective of Bouncy Basketball is to score as many baskets as possible while outplaying your opponent in fast-paced one-on-one matches.
Steps to Play
Select Your Player: Start by choosing your character from a variety of unique and comical basketball players.
Choose Game Mode: Pick your preferred game mode, such as Quick Match or Tournament, and set your match preferences.
Match Begins: Once the match starts, use your controls to move your player horizontally and jump.
Score Baskets: Time your jumps and shots to score baskets. Perform spectacular dunks for bonus points.
Defend Your Hoop: When your opponent has possession of the ball, use your skills to block their shots and steal the ball.
Outscore Your Opponent: Aim to have more points on the scoreboard than your opponent when the match timer expires.
Tips and Tricks
Perfect Your Timing: Precise timing is essential for successful shots and dunks. Practice your jumps and releases.
Dunk for Style: Dunks not only look impressive but also earn you bonus points. Use them strategically to gain an advantage.
Defense Matters: Don't just focus on offense; strong defense can prevent your opponent from scoring.
Game Developer
Bouncy Basketball was developed by Dreamon Studios, a game development company known for creating engaging and entertaining mobile games. Founded with a passion for crafting enjoyable gaming experiences, Dreamon Studios has succeeded in delivering casual, addictive games that cater to a wide audience.
Their commitment to delivering fun and accessible gameplay is evident in Bouncy Basketball, where they've combined simple controls with fast-paced basketball action, resulting in a game that's easy to pick up and hard to put down. Dreamon Studios continues to be a player favorite in the world of mobile gaming, and Bouncy Basketball is a testament to their dedication to delivering enjoyable gaming experiences.
Game Platforms
You can take your basketball skills to the virtual court in Bouncy Basketball on the following platforms:
iOS (available for download on the App Store)
Android (available for download on Google Play Store)
How to Play Unblocked
Playing Bouncy Basketball unblocked is straightforward, as it's a mobile game:
Official Sources: Download the game from official sources like the App Store (iOS) or Google Play Store (Android). Since it's a mobile game, it's typically accessible without restrictions.
School or Work Restrictions: If you're attempting to play at school or work, make sure your institution's policies permit gaming during break times. Casual and enjoyable games like Bouncy Basketball are often not heavily restricted due to their entertainment and stress-relieving nature.
Conclusion
Bouncy Basketball brings the excitement of the basketball court to your fingertips, allowing you to showcase your skills, perform incredible dunks, and outplay your opponents. With its easy-to-learn controls and fast-paced gameplay, it's a game that guarantees hours of fun and competitive basketball action.
So, pick your favorite character, take to the court, and aim for basketball glory in Bouncy Basketball. Whether you're aiming for high scores or simply looking for a quick gaming session, this game delivers an enjoyable and challenging basketball experience.