Game Description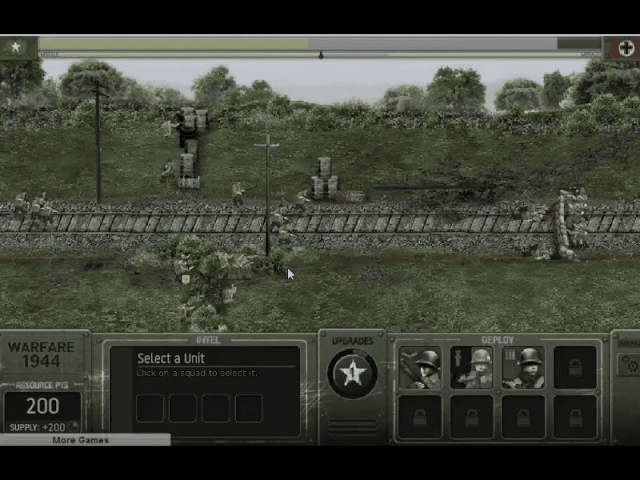 Warfare 1917 is a tactical strategy game that immerses players in the grim realities of World War I. Developed by ConArtists, this game offers a compelling mix of historical accuracy and engaging gameplay. In this unblocked version, you can lead your troops to victory on the battlefield without any access restrictions.
Game Controls
To succeed in the trenches, you must master the game's controls:
Mouse: Most actions in Warfare 1917 are executed using your mouse. Click to select units, give orders, and interact with the game interface.
How to Play Warfare 1917 Unblocked?
Objective
The objective of Warfare 1917 is to lead your army to victory by capturing enemy trenches or forcing them to retreat. The game features two campaigns: British and German. You can choose to play as either side, each offering a unique experience.
Steps to Play
1. Select Your Campaign
Start by choosing your campaign – British or German. Each campaign has its own set of missions and challenges.
2. Deploy Troops
You'll begin with a few soldiers in your trench. Click on the deployment bar at the bottom to send more troops onto the battlefield. There are various types of soldiers, including riflemen, machine gunners, and snipers.
3. Plan Your Strategy
Carefully consider your tactics. Move your troops forward to engage the enemy or hold your position for better defensive advantages. Use your special abilities, such as artillery strikes, to gain the upper hand.
4. Conquer the Trenches
Advance through the muddy battlefield, capturing enemy trenches while defending your own. The more trenches you hold, the faster your victory gauge fills.
5. Special Abilities
As you progress, you can unlock special abilities and reinforcements. These can turn the tide of battle, so use them wisely.
6. Victory or Defeat
The game continues until you achieve victory by reaching the required victory gauge level or until the enemy forces force you to retreat.
Tips and Tricks
Use Cover: Keep your soldiers in the trenches to benefit from cover and reduce their exposure to enemy fire.
Variety of Units: Experiment with different types of units to find the best combination for each mission.
Artillery Strikes: Timing is crucial when using artillery strikes. Aim to hit groups of enemy soldiers or strong defensive positions.
Reinforcements: Reinforce your troops when possible, especially when your numbers are dwindling.
Game Developer
Warfare 1917 was developed by ConArtists, a game development studio known for their engaging and strategy-focused games. Their commitment to historical accuracy and immersive gameplay shines through in Warfare 1917.
Game Platforms
You can enjoy Warfare 1917 on the following platforms:
Web browsers (unblocked version)
Some flash game websites
How to Play Unblocked
Playing Warfare 1917 unblocked is straightforward:
Web Browsers: Access the game through web browsers on your computer or mobile device. Since it's an unblocked version, you should encounter no access restrictions.
Flash Game Websites: Visit flash game websites that host Warfare 1917 unblocked. These platforms often provide access to a wide range of unblocked games.
School or Work Restrictions: If you're attempting to play at school or work, make sure your institution's policies allow for gaming during your break times. Always be aware of and respect your organization's guidelines.
Conclusion
Warfare 1917 takes you on a harrowing journey back to the trenches of World War I. With its immersive historical setting, strategic gameplay, and engaging campaigns, it provides an authentic taste of the challenges faced by soldiers of that era. Command your troops, make tactical decisions, and strive for victory as you rewrite history in this gripping game. So, step into the boots of a commander, and lead your troops to glory in Warfare 1917!