Game Description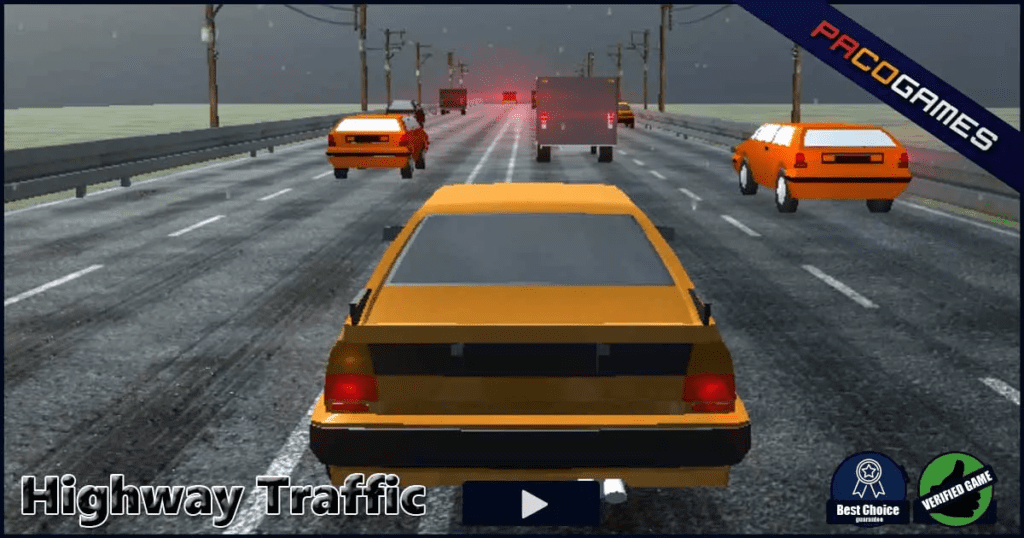 Highway Traffic is an exciting and fast-paced endless runner game that thrusts you into the heart of a bustling urban highway. Developed by TurboGames, this game challenges your reflexes, coordination, and decision-making skills as you weave through traffic, collect coins, and aim for high scores. Get ready to rev your engine and race through the urban jungle in this thrilling game.
Game Controls
To master the art of navigating the highway, familiarize yourself with the game's controls:
Touchscreen: Swipe left or right on your device's touchscreen to switch lanes and avoid collisions.
Keyboard: If playing on a computer, you can use the left and right arrow keys to switch lanes.
How to Play Highway Traffic?
Objective
The objective of Highway Traffic is to survive as long as possible while racing down the highway, avoiding traffic, and collecting coins. The longer you stay alive and the more coins you collect, the higher your score will be.
Steps to Play
Start the Game: Begin by selecting your vehicle and tapping the screen or pressing the keyboard key to start the game.
Avoid Collisions: As you race down the highway, watch out for other vehicles. Swipe left or right (or use the arrow keys) to switch lanes and avoid crashing into them.
Collect Coins: Keep an eye out for coins scattered along the highway. Collecting these coins adds to your score.
Power-Ups: Occasionally, you'll come across power-up items like shields or speed boosts. Collect these to gain temporary advantages.
Survive and Score: Continue to navigate the highway, avoiding collisions, and collecting coins to achieve the highest score possible.
Game Over: The game ends when you collide with another vehicle. Your final score is displayed, and you can choose to play again to beat your previous record.
Tips and Tricks
Stay Alert: Keep a constant lookout for oncoming traffic and be ready to switch lanes at a moment's notice.
Collect Power-Ups: Grab power-ups whenever possible to extend your gameplay and improve your chances of setting a high score.
Practice Makes Perfect: Like any endless runner game, practice is key. The more you play, the better you'll become at navigating the highway.
Game Developer
Highway Traffic was developed by TurboGames, a game development studio known for creating engaging and fast-paced mobile games. With a focus on delivering addictive gameplay experiences, TurboGames has produced a variety of popular titles that cater to players seeking thrilling challenges and quick bursts of entertainment. Their expertise in crafting enjoyable mobile games is evident in the high-octane experience offered by Highway Traffic.
Game Platforms
You can enjoy the adrenaline rush of Highway Traffic on the following platforms:
iOS (available for download on the App Store)
Android (available for download on Google Play Store)
How to Play Unblocked
Playing Highway Traffic unblocked is typically not a concern since it's a mobile game available for download from official app stores. However, if you wish to play it on a computer without any restrictions, you can use Android emulators like BlueStacks or NoxPlayer to run the Android version on your PC.
Conclusion
Highway Traffic offers a thrilling and challenging experience that tests your reflexes and ability to navigate a congested highway. With its simple controls, power-ups, and endless gameplay, it's the perfect game for quick bursts of excitement or longer gaming sessions. So, rev up your engines, dodge the traffic, and aim for that high score as you journey through the urban jungle in Highway Traffic!
Highway Traffic offers an exhilarating escape into the world of fast-paced, endless highway racing. As you navigate through the urban jungle, dodging traffic and collecting coins, your reflexes and strategic thinking will be put to the test. The game's simple yet addictive mechanics make it an ideal choice for both quick gaming sessions and longer challenges.
With its availability on iOS and Android platforms, Highway Traffic ensures that you can experience the rush of highway racing anytime and anywhere. Whether you aim to beat your high score or simply enjoy the thrill of the ride, this game has something to offer every player.