Game Description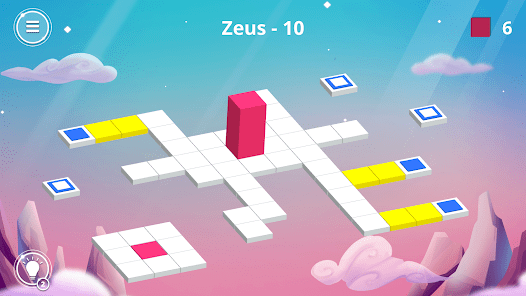 Bloxorz is a captivating and challenging puzzle game that tests your spatial reasoning and problem-solving skills. Developed by Damijin, this game presents players with a deceptively simple objective: guide a rectangular block through a maze and into a hole. However, as you progress through the levels, the puzzles become increasingly intricate and mind-bending, making each success all the more satisfying.
Game Controls
To maneuver the rectangular block through the maze-like puzzles of Bloxorz, you need to understand the game's controls:
Arrow Keys: Use the arrow keys on your keyboard to move the block in four directions: up, down, left, and right.
How to Play Bloxorz?
Objective
The objective of Bloxorz is to navigate the rectangular block through a series of puzzles and safely land it into a specially marked hole on each level. Sounds simple, right? Well, it gets trickier as you encounter switches, bridges, and various obstacles.
Steps to Play
Start the Level: Begin each level with the rectangular block positioned on a square platform within the puzzle.
Navigate the Maze: Use the arrow keys to move the block, but be cautious as some squares are fragile, causing the block to fall off the platform if it's not balanced properly.
Activate Switches: To access certain parts of the puzzle, you may need to activate switches by landing the block on them.
Mind the Gaps: Pay attention to gaps and bridges. You'll need to strategically position the block to cross them safely.
Reach the Hole: Your ultimate goal is to move the block in a way that allows it to land in the hole designated for each level.
Complete the Level: Once the block is safely inside the hole, the level is complete, and you can progress to the next challenge.
Tips and Tricks
Plan Your Moves: Take your time and plan your moves carefully. Think ahead to avoid getting the block stuck or falling off the platform.
Use Bridges Wisely: Utilize bridges and switches strategically to overcome obstacles and access different areas of the puzzle.
Trial and Error: Don't be afraid to experiment with different approaches to solve the more complex puzzles. Trial and error can lead to breakthroughs.
Game Developer
Bloxorz was created by Damijin, an independent game developer renowned for their talent in designing engaging and brain-teasing puzzle games. With a passion for crafting challenges that stimulate the mind and captivate players, Damijin has left their mark on the world of online puzzle gaming. Their dedication to creating intricate puzzles is evident in the thought-provoking levels of Bloxorz.
Game Platforms
You can enjoy the mind-bending puzzles of Bloxorz on the following platforms:
Web browsers (online game)
iOS (available for download on the App Store)
Android (available for download on Google Play Store)
With availability on both iOS and Android devices, Bloxorz ensures that players can immerse themselves in its challenging puzzles no matter where they are, whether it's on their computer, iPhone, or Android device.
How to Play Unblocked
Playing Bloxorz unblocked is straightforward since it's a web-based game:
Web Browsers: Access the game through web browsers on your computer. Since it's an online game, you should be able to play it without any restrictions.
School or Work Restrictions: If you're attempting to play at school or work, make sure your institution's policies allow for gaming during your break times. Typically, puzzle games like Bloxorz are not heavily restricted due to their educational and problem-solving nature.
Conclusion
Bloxorz offers a challenging and mentally stimulating puzzle experience that keeps players engaged with its progressively complex levels. With its simple controls and deceptively intricate puzzles, it's a game that encourages critical thinking and strategy.
As you navigate the rectangular block through the maze, activating switches, and avoiding pitfalls, you'll find yourself drawn into the world of Bloxorz, where each level presents a unique and satisfying puzzle to solve. So, embrace the challenge, sharpen your spatial reasoning, and conquer the puzzle maze of Bloxorz!