Game Description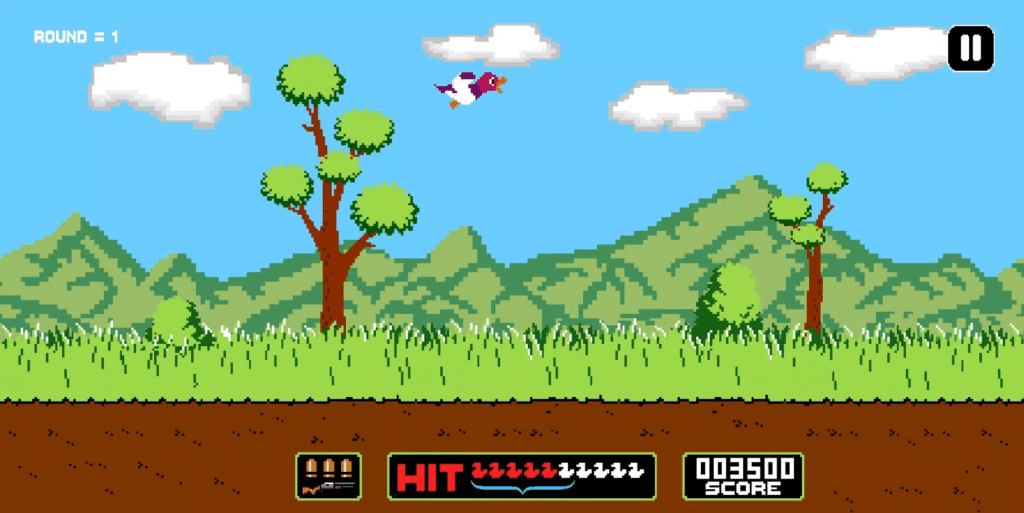 Duck Hunt is a classic shooting game that gained immense popularity in the 1980s as part of the Nintendo Entertainment System (NES). Developed and published by Nintendo, this game offers a simple yet addictive gameplay experience. Your objective is to shoot down ducks as they fly across the screen, aiming to achieve the highest score possible.
Game Controls
Mastering the controls in Duck Hunt is essential for success:
Nintendo Zapper: In the original NES version, players used the Nintendo Zapper, a light gun accessory. Aim the Zapper at the screen and pull the trigger to take your shots.
How to Play Duck Hunt?
Objective
The objective of Duck Hunt is straightforward: shoot down as many ducks as you can to score points. The game becomes progressively more challenging as you advance through rounds.
Steps to Play
Start the Game: Launch Duck Hunt and get ready to take on the feathered targets.
Wait for the Dog: The game begins with a hunting dog flushing out ducks. Keep an eye on the dog's movements as it scares the ducks into flight.
Take Your Shots: When the ducks are in flight, aim the Nintendo Zapper (or your mouse if playing a digital version) at the screen and pull the trigger to take your shots. Try to hit as many ducks as possible.
Scoring: You earn points for each duck you successfully shoot down. The game features different types of ducks, each with varying point values.
Rounds: The game is divided into rounds, and as you progress, the ducks will become faster and more challenging to hit.
Missed Shots: If you miss too many shots or fail to hit a minimum number of ducks, it's game over.
Tips and Tricks
Aim Ahead: To hit moving ducks, aim slightly ahead of them to account for their flight path.
Practice Precision: Precision is key in Duck Hunt. Try to make every shot count.
Watch the Dog: Pay attention to the hunting dog's behavior; it provides hints about when the ducks will take off.
Game Developer
Duck Hunt was developed and published by Nintendo, one of the most iconic and influential video game companies in the world. Nintendo is known for creating timeless classics that have left a lasting impact on the gaming industry.
Game Platforms
Duck Hunt is primarily known as a classic NES game. However, it has been recreated and made available on modern platforms, including:
iOS: You can find versions of Duck Hunt for iOS devices available for download on the App Store.
Android: Similarly, there are versions of Duck Hunt for Android devices available for download on the Google Play Store.
These mobile adaptations bring the nostalgia of the original NES game to your smartphones and tablets, allowing you to enjoy the classic shooting experience on the go.
How to Play Unblocked
Playing Duck Hunt unblocked is possible through web-based emulators:
Web Emulators: Search for web-based NES emulators that offer Duck Hunt as a playable game. These emulators often allow you to play classic NES games directly in your web browser.
School or Work Restrictions: If you're trying to play at school or work, ensure that your institution's policies allow for gaming during break times. Classic games like Duck Hunt are usually not heavily restricted due to their nostalgia and entertainment value.
Conclusion
Duck Hunt is a timeless classic that has captured the hearts of gamers for decades. With its simple yet addictive gameplay, it continues to offer a delightful shooting experience. The challenge of aiming and shooting down ducks as they dart across the screen, accompanied by the ever-enthusiastic hunting dog, is a nostalgic and enjoyable journey for players of all ages. So, grab your virtual gun, take aim, and relive the fun of Duck Hunt!