Game Description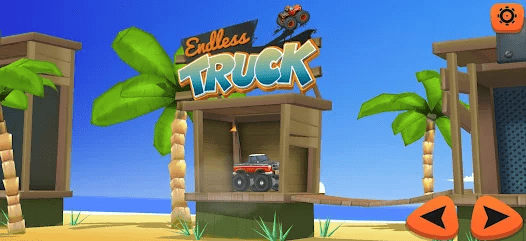 Endless Truck offers players a thrilling off-road experience where they take control of a powerful truck and tackle a variety of obstacles and challenges. The objective is simple: drive as far as you can while collecting coins, avoiding obstacles, and completing missions to earn rewards. With its dynamic gameplay and stunning visuals, Endless Truck promises an addictive driving adventure.
Endless Truck is an exhilarating and action-packed driving game that will test your skills as you navigate challenging terrain, collect rewards, and upgrade your vehicle. In this detailed article, we'll explore the game's description, controls, gameplay mechanics, tips and tricks, game developer, supported platforms, and how to access the unblocked version. Get ready to hit the road and embark on an endless trucking adventure.
Game Controls
Mastering the game controls is essential for conquering the rugged terrain in Endless Truck:
Accelerate (Up Arrow Key or W): To set your truck in motion and increase its speed, press the up arrow key on your keyboard or the "W" key. This control is crucial for maintaining forward momentum and covering more distance.
Brake/Reverse (Down Arrow Key or S): If you encounter obstacles or need to slow down, use the down arrow key or the "S" key. This control not only functions as a brake but also enables you to reverse your truck if necessary. It's handy for avoiding hazards and maintaining control.
Tilt Truck (Left and Right Arrow Keys or A and D): Steering your truck is a vital aspect of the game, and you can achieve this by tilting it left or right. To do this, use the left and right arrow keys or the "A" and "D" keys on your keyboard. Precise steering is crucial for avoiding obstacles, collecting coins, and staying on the road.
Jump (Spacebar or Left Mouse Button): To perform a jump, press the spacebar on your keyboard or use the left mouse button. Jumping allows you to overcome obstacles, gaps, and challenging terrain. Timing your jumps is essential to maintain your truck's momentum and reach high-value coins or power-ups.
Boost (Right Mouse Button): If you need an extra burst of speed, use the right mouse button to activate your truck's boost. This power-up can help you cover more ground quickly, but use it wisely, as it has a limited duration. Timing boosts effectively can make a significant difference in your performance.
How to Play Endless Truck?
Objective: The main goal in Endless Truck is to drive as far as possible while collecting coins and power-ups, avoiding obstacles, and completing missions to earn rewards.
Collect Coins: Gather coins scattered along the road to increase your score and purchase upgrades.
Power-Ups: Look out for power-ups like speed boosts to enhance your truck's performance.
Avoid Obstacles: Dodge or jump over obstacles and barriers to keep your truck on the road.
Upgrade Your Truck: Spend your collected coins on upgrades to improve your truck's abilities and durability.
Tips and Tricks
Balance Speed and Control: Maintain a balance between speed and control to navigate tricky terrain effectively.
Collect Power-Ups: Grab power-ups whenever possible to gain advantages and extend your run.
Complete Missions: Fulfill missions to earn extra rewards and increase your score multiplier.
Upgrade Wisely: Invest in upgrades that suit your playstyle, whether it's speed, handling, or durability.
Game Developer
Endless Truck is developed by Smokoko, a game development studio known for creating a wide range of web-based games, including various driving and racing titles. Smokoko's games are recognized for their accessibility and addictive gameplay, making them popular choices for online gaming enthusiasts. With their dedication to delivering enjoyable and engaging web-based gaming experiences, Smokoko has made a significant contribution to the world of casual online gaming.
Supported Platforms
Endless Truck is primarily available as a web-based game, playable on compatible web browsers. However, as of my last knowledge update in September 2021, there were no official iOS or Android versions of the game released on the respective app stores. Please note that game availability may change over time, so it's a good idea to check the Apple App Store and Google Play Store for any updates or mobile versions of the game if you're interested in playing it on your iOS or Android device.
Conclusion
Endless Truck offers an exciting and addictive off-road driving experience for gamers seeking a thrilling adventure. Developed by Smokoko, the game reflects the developer's commitment to providing accessible and enjoyable web-based games.
Whether you're a fan of high-speed off-roading or simply looking for an entertaining driving game, Endless Truck delivers an action-packed journey with stunning visuals and challenging obstacles. Take control of your truck, gather coins, and upgrade your vehicle to conquer the rugged terrain. It's a must-try for players who crave the excitement of an endless off-road adventure, easily accessible through web browsers. Hit the road and embark on your Endless Truck journey today!