Game Description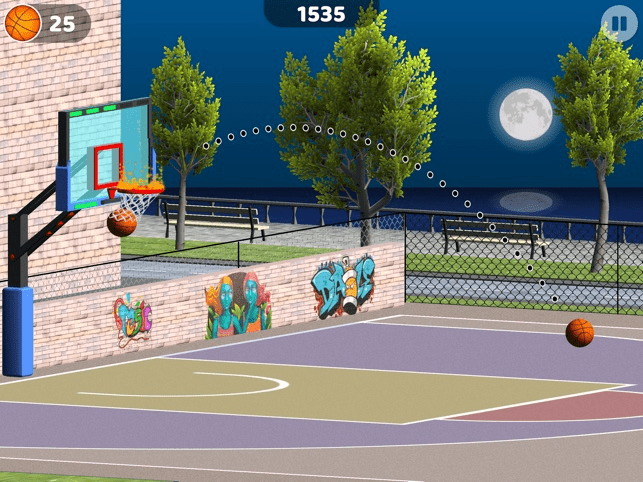 Basketball Shooter is an addictive and challenging basketball shooting game that tests your precision and aiming skills. Developed by BoomBit Games, this game offers a straightforward yet captivating gameplay experience. Your goal is to shoot basketballs into the hoop, racking up points as you sink baskets from various distances and angles.
Game Controls
To become a proficient Basketball Shooter, you'll need to get familiar with the game's controls:
Mouse or Touchscreen: Aim by moving your mouse or tapping and dragging on the touchscreen.
Left Click or Tap: Release the left mouse button or tap the screen to shoot the basketball.
How to Play Basketball Shooter?
Objective
The objective of Basketball Shooter is simple: score as many points as possible by successfully shooting basketballs through the hoop. You have a limited number of balls in each round, so make every shot count.
Steps to Play
Launch the Game: Start the game and prepare for some basketball action.
Aim Carefully: Move your mouse or finger to aim the shot. Pay attention to the angle and power needed to make the basket.
Take the Shot: When you're ready, click the left mouse button (for PC) or tap the screen to take the shot. The basketball will travel towards the hoop.
Score Points: If the basketball goes through the hoop, you earn points. The farther the shot, the more points you receive.
Complete the Round: Continue taking shots until you've used up all the basketballs for that round.
Achieve High Scores: Aim to score as many points as possible and set new high scores with your shooting prowess.
Tips and Tricks
Practice Your Aim: Spend some time practicing your aim to get a feel for the game's physics and develop better accuracy.
Master Different Distances: Try shooting from various distances to become proficient at making baskets from both close range and long range.
Watch the Power: Adjust the power of your shots based on the distance to the hoop. Short shots require less power, while long shots need more force.
Game Developer
Basketball Shooter was developed by BoomBit Games, a renowned game development company with a track record of creating engaging and addictive mobile games. They have a knack for crafting simple yet highly enjoyable gameplay experiences that cater to a wide range of players. With their expertise in creating fun and accessible games, BoomBit Games has once again delivered a delightful basketball shooting game in Basketball Shooter.
Game Platforms
You can enjoy the thrill of basketball shooting in Basketball Shooter on the following platforms:
iOS (available for download on the App Store)
Android (available for download on Google Play Store)
How to Play Unblocked
Playing Basketball Shooter unblocked is a straightforward process:
Official Sources: Download the game from official sources like the App Store (iOS) or Google Play Store (Android). Since it's a mobile game, you typically won't encounter unblocking issues.
Work or School Restrictions: If you're trying to play at school or work, ensure that your institution's policies permit gaming during break times. Games like Basketball Shooter are often not heavily restricted due to their casual and quick-play nature.
Conclusion
Basketball Shooter offers a quick and enjoyable basketball shooting experience that's easy to pick up and play. Whether you're aiming for high scores or simply looking to pass the time with some basketball fun, this game provides a satisfying and challenging hoop-shooting adventure. So, grab a basketball, aim for the net, and see how many baskets you can sink in Basketball Shooter!
Basketball Shooter brings the thrill of the basketball court to your fingertips, offering a fun and challenging shooting experience. With its straightforward controls and addictive gameplay, it's a game that's easy to pick up yet hard to put down.
As you aim for the hoop, testing your precision and aiming skills, you'll find yourself immersed in the quest for high scores and perfect shots. Whether you're looking for a quick gaming session or aiming to become a basketball shooting pro, Basketball Shooter offers the excitement and challenge you seek.